Bienvenue sur le site de Roonui
ROONUI ICÔNE VIVANTE DU PACIFIQUE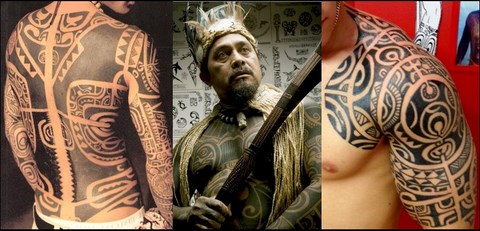 Le corps couvert de parures traditionnelles a l'image de ses ancêtres, Roonui fait partie de ceux qui on réintroduit le tatouage traditionnel aux îles de la société vers les années 1980 , la renaissance de cet art polynésien si longtemps interdit .... abolie par les missionnaires en 1863
Partout sur le corps se dessinent de grands applats noirs géométriques. Des motifs marquisiens. Parmi les premiers à être encrées , depuis la renaissance du tatau, Roonui est, pour la Polynésie, une vitrine vivante et un ambassadeur de cette pratique ancestrale. Dans les livres, les journaux, sur les timbres, son image représente la culture maohi.
Roonui a reçu son talent comme un don . Des âge de treize ans il commence a se tatouer sur différente partie de son corps, et puis les amis, les frères de rue se laisse piquer par ce futur grand maître qui maitrisent de jour en jour sa passion son art et son 'mana'. Avec ses deux frères Chimé et Purotu ils relancent la pratique en Polynésie sur île de Tahiti et Moorea ils piquent locaux et touristes dans leurs studios respectifs . Praticien depuis plus de 40 ans, il transmet son savoir sur les peaux en les gravants et les ornants de motifs et symboles, de renaissance et de vie. Son expérience et sa notoriété en font un maître à vocation libérale très réputés.
Roonui Anania is a master tattoo artist...
who practice his craft in Tahiti Papeete ....
During the renaissance of this traditional
Polynesian custom in the 1980s, he quickly became recognized as one of the best of the `tahua tatatau` the adepts of tattooing. Roonui has earned a worldwide reputation as well as winning prizes for his tribal tattoos during competition held in Europe the United States, North America Japan. His body is a living canvas of tattoo designs from throughout the pacific, many of which he applied himself in all the places he could reach.
Roonui was first tattoed when he was 11 years old, when he and is friends, Chimé and Purotu,were learning this ancient art on one another's bodies. All three young men were precursors of Tahiti's cultural revival and are tattoo masters today. When a journalist asked Roonui to explain the significance of his tattoo, he replied `they symbolize 'balance' that is all i can said. It is taboo to talk about it.' Then he added 'Polynesian tattooing is not a simple exercise in aesthetics.Polynesian carve into their body the symbols of their actions (past present or future) their promises, their games.He concluded the interview 'I do not know how to talk about tattoing.Actually you don't talk about it, you live it. I can express myself better with a tattoo machine in my hand than with any world.
Roonui was a pioneer of this cultural renaissance and he is considered to be an especially gifted tahua tatatau , as well as a fire and knife dancer with powerful mana.
Roonui and is canadian wife Lynda opened a studio in Tahiti , Papeete French Polynesia where they do a very active business tattooing locals and visitors from around the globe. Roonui creative motifs have earned him awards in International competitions held in Europe USA Canada Japan Tahiti.
Tatouages polynesiens Maohi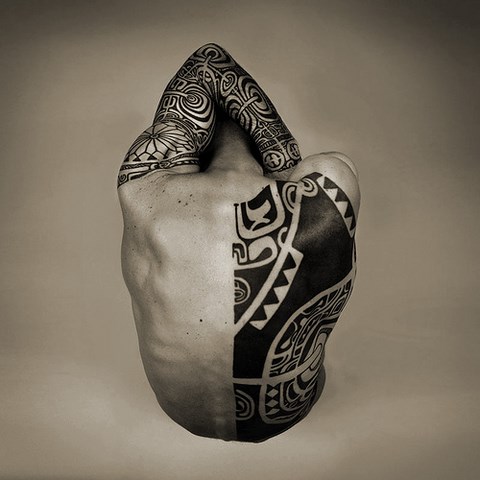 Chaque tatouage est unique adapté a endroit tatoué et a la représentation des symboles demandé .
Les tatouages polynésiens sont des récits qui s'inscrivent dans histoire de l'art.
On peut acquérir les qualités d'un ancêtre ou d'un esprit par le tatouage en représentant sa symbolique sur la peau.
On doit laisser le tatoueur chosir alors dans son histoire du peuple l'élément le plus adapté a son client qui le portera avec le respect et fierté.
Le tatouage se doit d'être
esthétique et doit mettre en valeur la partie du corps tatoué.
lA FORCE PAR LA DOULEUR......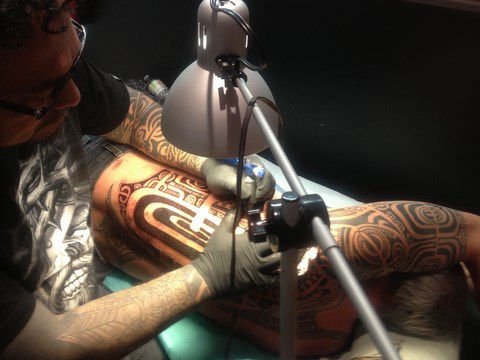 INFO CONTACT
ROONUI & LYNDA
Ouvre leur nouveau studio a la ville de Papeete a coté du Marché central
Tevairai se joint à notre équipe
Immeuble Wohler AHI
Galerie Vaiete 103 rue Colette
local 1er etage
TEL: (689) 87 327 257
Email : tatauroonuilynda@yahoo.fr
We are opening a new Tattoo Studio
situated in Papeete near to the
Market Place
Tevairai, tattoo artist
join us at the new tattoo studio
a Papeete Tahiti
près du Marché
LAST NEWS
NEW TATTOO STUDIO
in Papeete Tahiti
near the market
Immeuble Wholer
103 rue Colette
1er etage
first floor
TAHITI PAPEETE
Phone Number
(689) 87 327 257
Back to roots......